Administrators can now mark a course as ongoing. This feature will be useful for courses that are offered several times or are available to take at the user's convenience such as online courses and webinars. In addition, past courses can be archived. Archiving a course removes the course from available courses shown on the Course Management and Course Registration screens, but the course will remain available to administrators for search and reporting purposes.
Entering a course as ongoing allows administrators to enter a course without the required Begin Date field. A course marked as ongoing will remain available to users and administrators on the User Course Management Screen and the Course Registration screen until it is archived. When selecting a course that is marked as ongoing, an administrator or user will be prompted to enter the date the course was a taken or will be taken.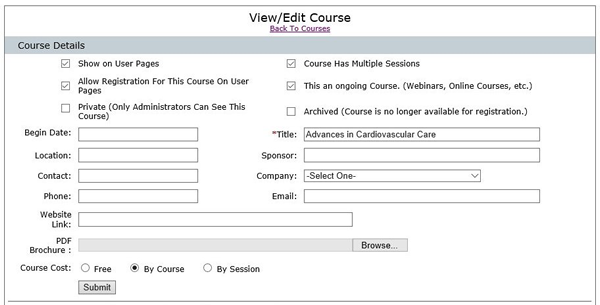 When a course is no longer available, it can be marked as archives. This will remove the course from the list of the available courses that can be added to a user profile. Archiving past courses can greatly improve the functionality of the Course Attendance screen on the User Profile. Archived courses will remain available in the list of courses attended on the User Profile screen and will also be available in course attendance search screens.
Several professionals struggle with tracking very complicated license renewal requirements. Often, there are optional credits that are required such as meeting at least one requirement in three different groups of requirements or meeting a certain number of credits from each group of requirements and ending with a specified grand total. With this recent change, Continuing Ed Tracker LIVE can now handle almost any complicated license renewal requirements. The setup is very flexible yet very easy to use.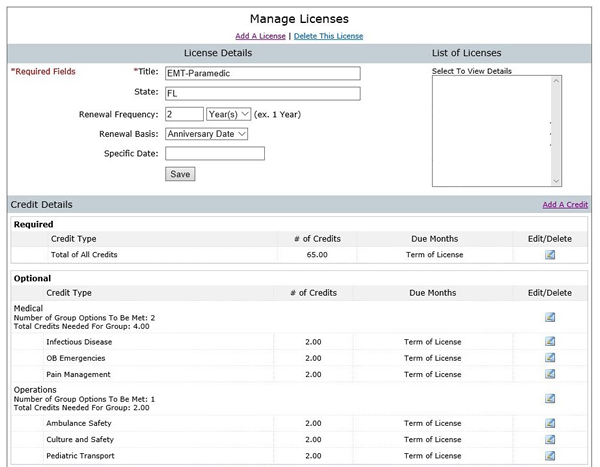 The user site includes an Upcoming Courses section that allows users to view and/or register for upcoming courses. The list of courses in this section are courses entered into the system by the administrator and marked as Show On User Pages. This update allows administrators to add a link to website for a courses or list of courses. The Upcoming Courses section now not only shows courses entered into the system, but can show lists of courses from outside sources which helps the user find the courses they need to keep up with their continuing education.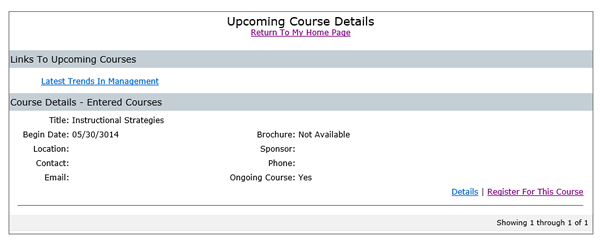 Continuing Ed Tracker LIVE allows for an unlimited number of administrative users. With this new feature, you can restrict what each administrator can see and what each administrator can do. You can restrict what administrators can see by assigning them to a specific company or a group in the Manage Administrators section. For example, you can create a group of people by department within your company. Then you can assign an administrator to see and manage only the people in that group.

You can now also restrict what administrators can do. The options range from just viewing records and running reports to editing licenses and license requirements, managing user licenses and course attendance and more.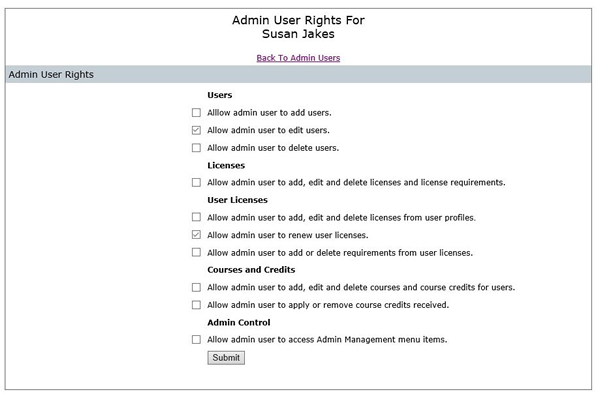 In response to a request from a customer, the Continuing Ed Tracker LIVE team at KRC Software, LLC added the ability to edit a user license and course attendance from the user profile section. These new features give the administrators the ability to edit a user license or course attendance by user which makes data entry much more efficient and flexible, and keeps data clean and manageable..
After a license is added to a user profile screen, the administrator can click an edit link to edit the license renewal and expiration date, edit the license requirements renewal and expiration dates, change the credit type and number of credits needed, and add or delete a credit requirement.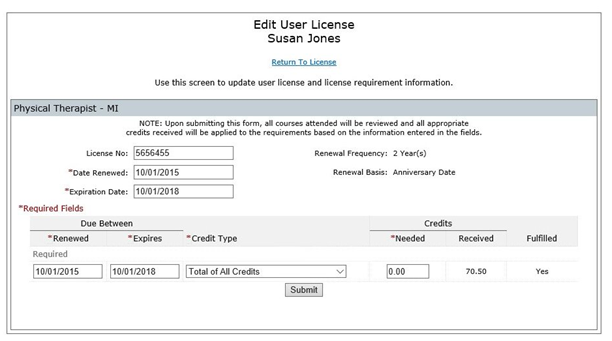 After editing this data, the administrator simply clicks the "Find Credits Received" link on the User License Detail screen to refresh and automatically apply any credits received that match the new license and license requirement information.
The same flexibility was added for course attendance. When viewing the Course Attendance screen, administrators now have a link to edit the course date,

session date if applicable, credit type and number of credits received. After this information is saved, Continuing Ed Tracker LIVE will automatically add the credits received to the appropriate license requirements for the user.
We appreciate the feedback from our customers and hope to continue to improve Continuing Ed Tracker LIVE to meet their needs.